When Fast-ish Isn't Fast Enough, You Need Real-Time Integration
Moving and modifying data on a pre-defined schedule or as part of a triggered automation is sufficient—usually. But as web interfaces and instant gratification become social norms, more companies are adopting real-time integration solutions to improve the customer experience and gain a competitive advantage.
Deliver on the Promise of Real-Time
The Saltbox API (application programming interface) Gateway facilitates real-time integration between Vision33's The Saltbox Platform and any third-party application. It provides a secure, bi-directional pathway to trigger workflows and transmit mission-critical business data.
Enable Broad Range of Use Cases
Saltbox API Gateway enables a broad range of use cases for customers, business partners and internal teams.
Acts as a web-service API for legacy systems to accelerate traditional integration methods like FTP or SQL server.
Retrieves and displays conditional values from one or more systems via a user interface such as:

Sales quotes that draw accurate pricing or inventory from other systems
Shipping options, inventory levels, tax rates
Online, side-by-side comparison tools
Online service portals for business partners or customers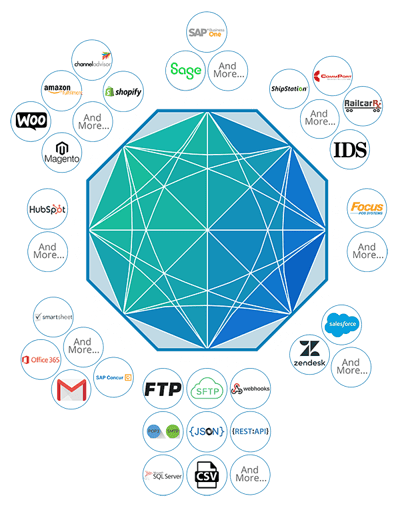 Key Features and Benefits
Quick to deploy
Integrates natively with The Saltbox Platform and its connectors
Low code
Creates API URLs and keys with the push of a button
More efficient
Eliminates manual processes that frustrate staff and slow your business down
Loyal customers
When you're easy to do business with, customers and business partners take notice
How It Works
The Saltbox API Gateway is a secure URL that facilitates the lightning-fast (real-time), bi-directional data exchange between two systems. How?
The system of origin places a call to the gateway.
The gateway triggers a Saltbox workflow.
The transactional data is processed.
The workflow results and data values flow back into the originating system.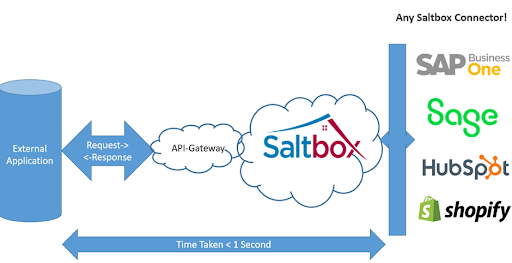 Want to Learn More?
Take a look at this real-time integration use case using Vision33's Saltbox's API Gateway.