What Is The Saltbox Platform?

iPaaS Defined

The Value of Integration

Saltbox Solves 7 Key Business Challenges

Why Saltbox?

Compare iPaaS to Point Integration Solutions

Key Features

InterCompany for SAP Business One

Automations for SAP Business One

Application & Utility Connectors

Real-Time Integration (API Gateway)

Custom Integration Solutions and Services

Customer Stories

Pre-Built ERP Integrations

Goodbye, hard-to-manage point solutions.
Hello, end-to-end integration across your operations.
What Is The Saltbox Platform?
Saltbox is a cloud-native, low-code integration platform as a service (iPaaS) solution that empowers small and midsized companies to integrate disconnected business systems like ERP, CRM, and eCommerce.
Integrate disconnected applications and data sets
Automate manual error-prone processes and tasks
Synchronize data between business systems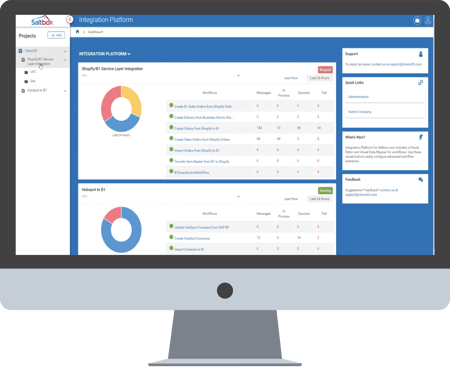 Eliminate silos.
Integrate with anything to break down data silos and achieve 360-degree visibility into your business
—from cloud-native apps with modern REST APIs to legacy and proprietary applications and data warehouses.
Get more value.
Through automation, Saltbox extends the native capabilities of your business apps. You'll get even more value out of your technology investments.
Accomplish more.
Transform repetitive, time-consuming tasks and processes — like data entry and invoice creation — into automated processes that eliminate mistakes and save you time.

Common automations via Saltbox




Check stock availability before order is placed
Create/update customer record when order is placed
Send shipping confirmation & tracking information to eCommerce platform
Set minimum/maximum inventory levels




Add prospect to campaign based on sales stage
Trigger nurture email after product registration or trial evaluation
Attach website visitor traffic to customer and prospect records
Create new sales follow-up activity when customer engagement increases




Create sales order in ERP from online order or email
Create delivery note
Create A/R invoice for delivered services
Change sales stage when an opportunity is created
Change contract status when a service contract expires




Create A/R invoice(s)
Create A/P invoice(s)
Create deferred revenue journal entries
Automate approval workflows

iPaaS is a cloud-based solution that simplifies integration across on-premises and cloud business applications, data sets, and services. Any business using iPaaS can seamlessly integrate its entire tech stack while eliminating the complexity of creating and maintaining multiple point-to-point (P2P) integrations.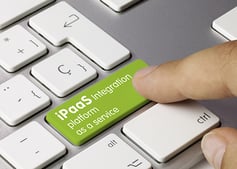 Integrations are the lifeblood of business agility and a competitive advantage in fast-evolving markets. Integrating apps and data warehouses breaks down data silos to give your teams a 360-degree view of the business. Integrations also enable you to automate business processes and data flow between high-value systems like ERP, CRM, marketing automation, and more.
Instead of paying for new systems, you can maximize the return on your existing investments using fast, easy integrations.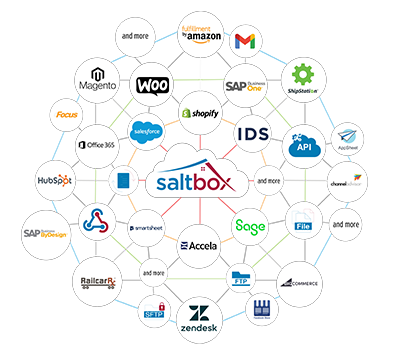 Saltbox Solves 7 Key Business Challenges
Business Challenges Saltbox Solves
The following operational challenges have been identified by Vision33 customers who turned to Saltbox to solve them.
| | | |
| --- | --- | --- |
| Business challenge → | Proposed solution → | Result |
| 1. Business operations are running less smoothly due to growth and business or technology changes | Use a simple, low-code interface to build new or updated integrations and/or automated workflows to support changes | Pivot business operations quickly and easily |
| 2. Mistakes are negatively affecting the business (lost orders, customers not invoiced, data entry errors, etc.) | Automate daily system-based tasks and processes | Protect the business from human errors that produce negative outcomes |
| 3. Employees are spending too much time on administrative work (e.g., double data entry) | Automate daily system-based tasks and processes | Improve operational efficiency, reduce low-value work by 80%, and free staff to focus on high-value tasks |
| 4. There's no clear picture of the business due to inaccurate data or data silos within multiple systems | Integrate business systems so data flows in line with business rules/logic. | Get a 360-degree view of the business and a single source of the truth, trust your data, and make confident decisions |
| 5. Creating reports is manual, complex, and time-consuming | Centralize core business system data via integration | Streamline and simplify the reporting process so teams can focus on higher-value initiatives |
| 6. ERP does 95% of what the business needs, but some processes are too manual | Automate workflows to extend the functionality of core systems | Obtain more value from existing technology investments |
| 7. Existing integrations are expensive, hard to maintain, inflexible, or limited in scope | Use a low-code iPaaS solution to consolidate and maintain your integration stack without developer assistance | Reduce integration and automation costs |
ERP integration
Natively integrates with SAP Business One, Sage Intacct, and SAP Business ByDesign.
Unlimited integrations
Integrates with on-premises legacy apps, SaaS solutions, data warehouses, and more.
The best choice for growing SMBs
Developed specifically for growing SMBs that want profitable growth.
Ultimate flexibility
Provides a flexible implementation model, from 100% vendor-led to 100% self-managed.
Objective success
Each integration project is laser-focused on driving measurable outcomes for your business.
Fast time-to-value
Pre-Built solutions deliver rapid time to market and ROI.
Compare iPaaS to Point Integration Solutions
Technology landscapes are dynamic. From software upgrades to new line of business applications, companies—and their technologies—are continuously changing. Agile businesses must anticipate these changes and invest in flexible technologies that enable them to change course quickly.
Unlike point-to-point solutions, iPaaS is a sustainable, flexible, strategic platform, capable of supporting any integration scenario or use case.
| | | |
| --- | --- | --- |
| | iPaaS | Point-to-Point |
| Type | Platform | Tool |
| Flexibility | Highly flexible | Inflexible |
| Functionality | Robust | Limited |
| Data flow | Bi-Directional | One-Directional |
| # of end points | Unlimited | One |
| Connectors, workflows, and automations | Pre-Built and custom | May offer simple pre-built automations |
| Required skill set | Low to medium | Medium to high (It's different for every tool) |
| Cost | Low to moderate | Moderate to high |
| Maintenance | Low | Moderate to high |
| Required resources | | |
| Visible integration status | Yes, via a dashboard | No |
| Error-tracing | Yes | No |
There's so much to love about The Saltbox Platform. These are the features our SMB customers say they can't live without.
Pre-Built app and utility connectors
Quickly connect and automate your business with out-of-the-box solutions.
API Gateway
Construct real-time integration scenarios with lightning-fast, real-time data exchange.
Low code
Map fields and design workflows with drag-and-drop ease.
DocDesigner
Design and automate common transactional communications such as invoices and shipping notices.
Autoscaling
Eliminate performance issues when transaction volumes increase.
Operational dashboards and alerts
Instantly visualize the operational status of workflows and transaction volumes.
Version control
Track workflow changes and revert to prior versions.
Error-Tracing
Discover, diagnose, and resolve failed transactions and workflows.
InterCompany for SAP Business One

Multi-entity accounting and reporting are time-consuming and complicated—especially if you manually manage transactions and month-end close. Instead, prevent mistakes, streamline operations, and accelerate month-end close by automating intercompany transactions, consolidations, and reports.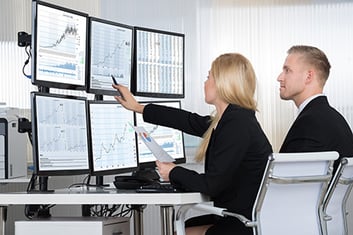 Automations for SAP Business One
Automations for SAP Business One transforms manual tasks into automated workflows, prevents costly mistakes, and conserves time and resources. Pre-Built and natively integrated with SAP Business One, each automation delivers a rapid return on investment for multiple lines of business, including finance, inventory and production, sales, and service.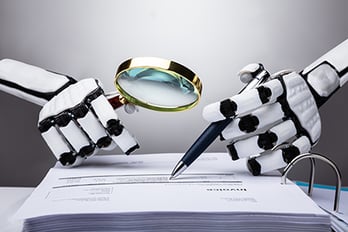 Application & Utility Connectors
The Saltbox Platform uses connectors to seamlessly integrate your mission-critical applications. From ERP to CRM and accounting solutions, connectors facilitate new integrations and the creation, management, and maintenance of workflows.
There are two types of Saltbox connectors:
Application Connectors: Transform and move data between business applications
Utility Connectors: Extend workflow functionality or connect with legacy applications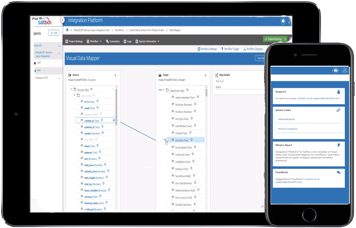 Real-Time Integration (API Gateway)
As web interfaces and instant gratification become social norms, more companies are adopting real-time integration solutions to improve the customer experience and gain a competitive advantage. The Saltbox API Gateway delivers on the promise of real-time by facilitating lightning-fast, secure, bi-directional pathways for data to flow through.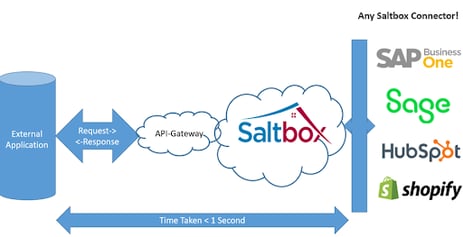 Custom Integration Solutions and Services
For over 20 years, Vision33's experts have delivered services and custom solutions to growing businesses with a variety of integration needs. Our certified consultants dive deep into your business and use embedded software tools, functions, and The Saltbox Platform to develop a groundbreaking, bespoke solution.
Learn about Vision33's integration solutions and services.
Pre-Built ERP Integrations
Here are a few of the pre-built connectors we offer: