Saltbox Platform
YOUR SOURCE FOR BEST IN CLASS iPaaS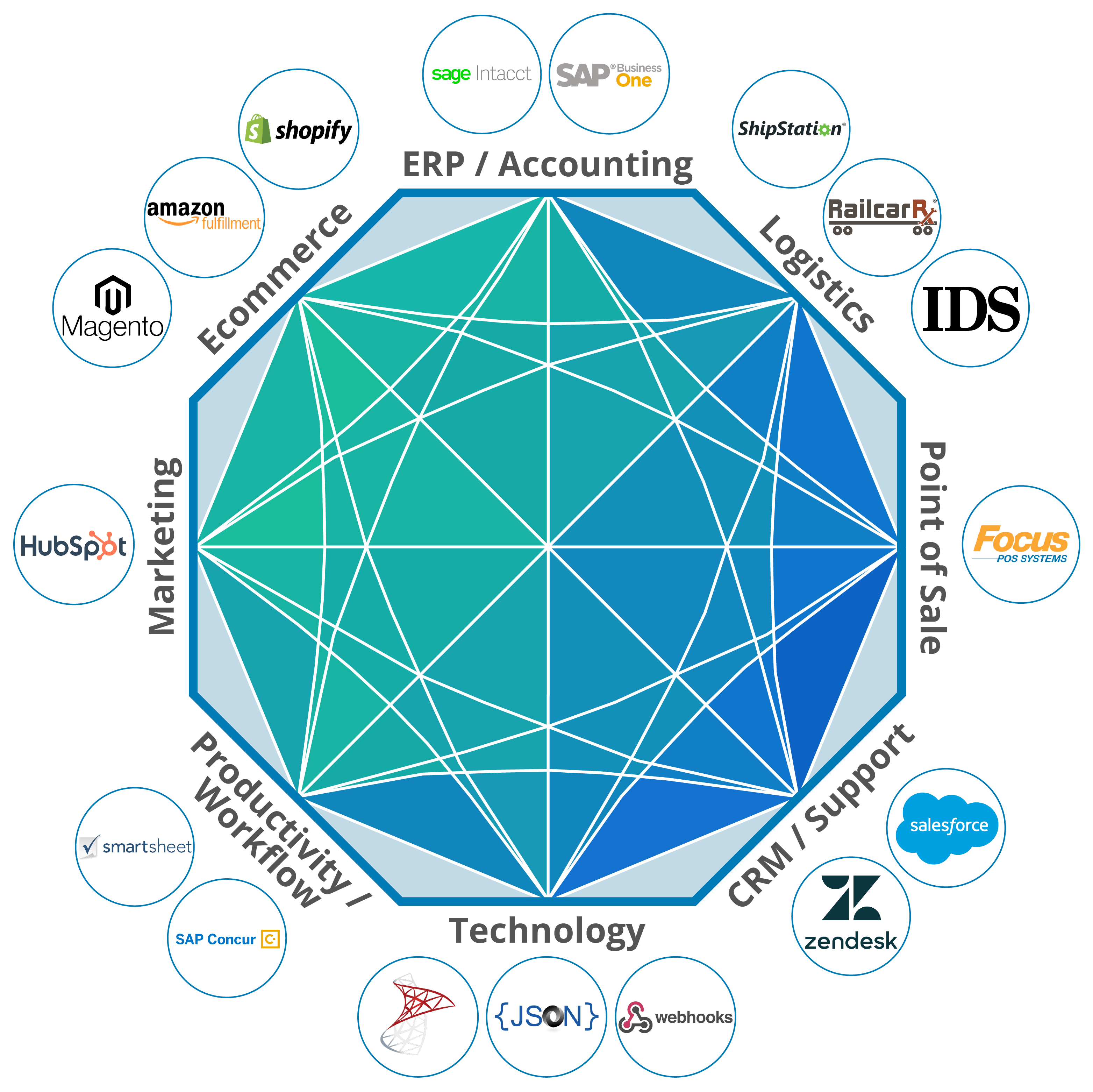 Click here to expand the image.
Making Systems Work Together
Businesses continue to shift from out-of-the-box software suites to a complex set of independent applications that need to work together. This change means these applications must transform and transfer data continuously – often in real-time. That leads to an ongoing burden of maintaining integrations between multiple systems and tools. The Saltbox Platform eliminates this burden and seamlessly connects the applications you rely on to run your business.
Enabling Your Digital Transformation Journey
Digital transformation is reimagining your business for the digital age, and business owners who have embraced digital transformation are 26% more profitable than those who have not. (Massachusetts Institute for Technology).
The Saltbox Platform powers your digital transformation journey by:
Providing the pathways to add new systems and processes
Allowing you to modify existing processes for greater flexibility and agility in changing times and unprecedented circumstances
Letting you establish new connections between systems
Offering new ways to access and use applications and data with human interactions in workflows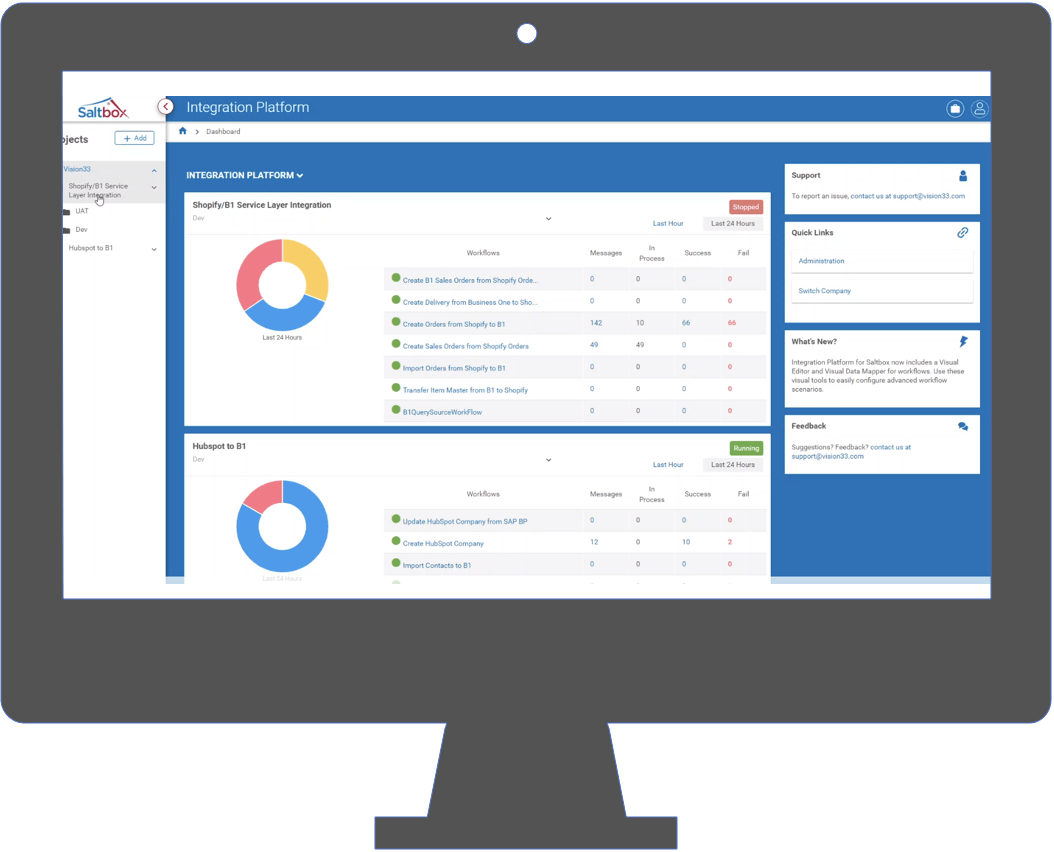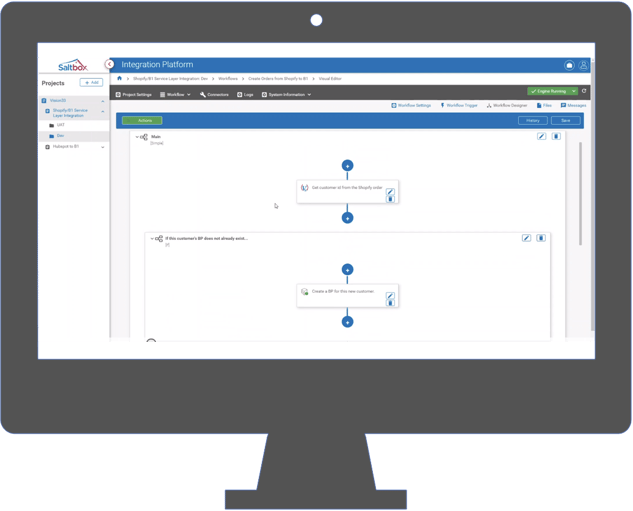 Simplifying the Implementation Process
Unlike customized development projects, the Saltbox Platform is simple to implement. A low-code process speeds your project and requires fewer revisions during the integration process because innovation happens closer to the application and user.
In a traditional point-to-point integration, more integrated applications equal more connection lines. Things get complex and cluttered, and the headaches and mistakes creep in.
Using the Saltbox Platform as a central connection hub eliminates much of the connection complexity. The more applications you need to integrate, the more valuable the Saltbox Platform is. And because your applications are integrated with a platform rather than point-to-point, it's easier to change one application for another without disrupting your entire environment.
Autoscaling
Automatically responds to volume demands.
Visual Field Mapping
Easily map fields for application integration and automatically transform data formats (e.g., date configuration) during data transfer.
Visual Workflow Creation
Build new workflows and understand the steps in current workflows for greater visibility and usability.
Dashboard and Metrics
Understand the status and volume of all integrations with just a quick review.
Intuitive Error Tracing
Easily review errors and failed transactions to understand and correct issues quickly.
Webhook
Support
Saltbox works with application webhooks to reduce the volume of system traffic and increase application and integration speed.
API or File Based Integration
Easily add modern applications with APIs to the Saltbox Platform with an industry or custom connector.
Various Options for Applications
Use multiple options for applications in each class (e.g., eCommerce connectors for Shopify, Magento, and WooCommerce).
Cost Savings Benefits of Saltbox Platform
Eliminate Manual Data Transfer
Prevent costly mistakes from manual transfer.
Prevent Costly Errors
Reduce down-time and ensure errors aren't costing you.
Eliminate the need to create new workflows as business activities and conditions change (e.g., remote work and systems).
Free Up Time to Innovate
Free up time to innovate and have your staff focus on more important tasks.
Contact us to solve your integration issues:
Saltbox is designed and built as a cloud-centric tool specifically for connecting transactional data between critical business systems. Additionally, Saltbox provides for integration and workflow construction in a manner that allows for intelligent human intervention in input, approvals and exception handling.
Ready to learn more?