The Saltbox Platform is an enterprise-class, low-code integration platform as a service(iPaaS) solution that empowers companies to:
Integrate

any application, data set, or business process
Legacy and proprietary applications
Cloud and on-premises
Applications with modern APIs
Databases
Automate

any manual process or work flow
Data upload
Order entry
Expense processing
Synchronize data between systems
Spot, diagnose, and resolve failed transactions and work flows
Operational dashboard
Proactive monitoring
Version control
Alerting
Error tracing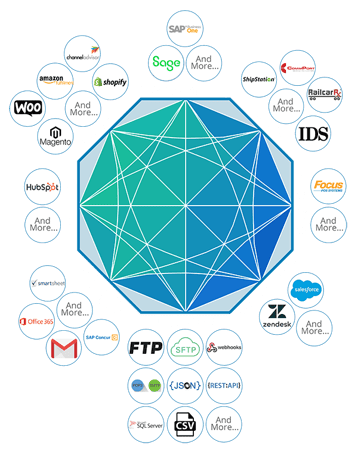 What Is Saltbox?
Saltbox uses connectors to seamlessly integrate your mission-critical applications, empowering IT and business stakeholders to replace point-to-point solutions, error-prone manual processes, and data management efforts with powerful data synchronisation and automated work flows.
Born in the cloud, Saltbox scales and evolves with your business, so you have time to redefine how it operates.
Why Saltbox?
There are many ways to integrate business applications, but The Saltbox Platform is the only solution that can cost-effectively synchronize your data and automate processes across your entire tech stack. Saltbox eliminates the expense and technical complexity of managing multiple point-to-point integrations.
Designed and priced for growing and mid-market companies
100% cloud-native (no legacy code)
Powered by AWS (Amazon Web Services) to support infinite transactions and concurrent work flows
Built by experts in small and medium business systems and integration
Offers a flexible service model that provides as much support as you need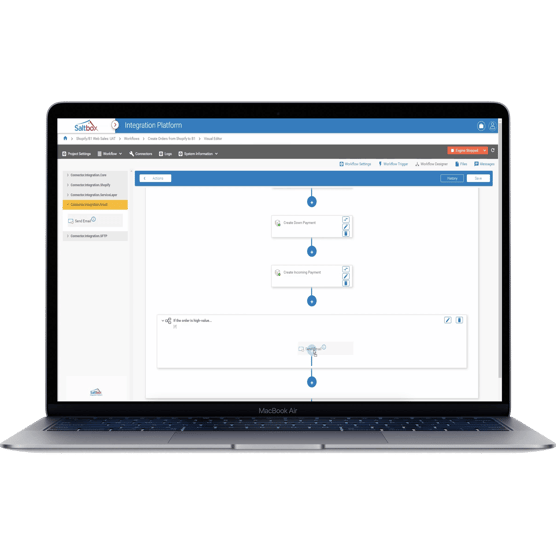 Free up time to innovate
Boost productivity and free up IT staff
Reduce integration costs
Consolidate integration tools on a single platform
Eradicate expensive errors
Replace manual processes and data entry with automated work flows
Boost the ROI of your tech stack
Accelerate automation efforts and extend the functionality of existing systems
Low code
Map fields and design workflows with drag-and-drop ease
Autoscaling
Dynamically adjusts with transaction volume
Connectors
Integrate with and build actions, functions, and triggers for any endpoint
Error tracing
Spot, diagnose, and resolve failed transactions and workflows
Dashboards and alerts
Get instant visibility into workflow statuses and transaction volumes
Version control
Easily track and revert workflow changes
You may be ready for Saltbox if:
You want to integrate two or more applications, data sets, or processes
Point integration tools are creating more problems than they solve
You want to get more out of your technology investments
Automation has become a strategic initiative for your business
You want to reduce the CapEx and OpEx of building and maintaining integrations and work flows